Free coffee in lobby
Various specialty coffee, tea, green tea, etc. can be used free of charge in the lobby on the first floor.
Take out is also possible, so why not take a walk in Kamogawa with a cup of coffee?
You can take it to the rooftop terrace on the 5th floor of the hotel.
Catering breakfast of Kyoto vegetarian cuisine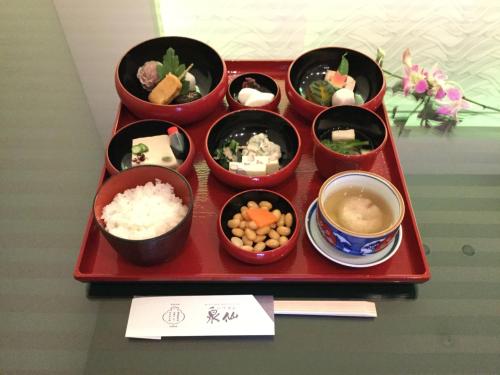 From the Kyoto restaurant, a breakfast of vegetarian cuisine will be delivered to your room.
Delivery time AM8: 30-AM9: 00
Reservation required: Please make a reservation at the front desk by 15:00 the day before.
Price: ¥ 2,500 per person (tax included)
* However, the
contents will differ
if you are staying in a compact double room (Room 502)
.
¥ 1,980 per person (tax included)
Smartphone in the guest room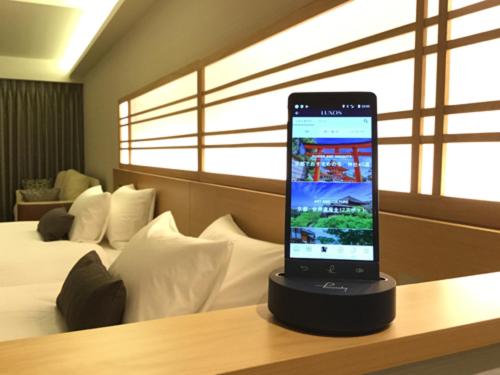 Free rental smartphone "handy" is available in all rooms.
During your stay, you can use domestic and international calls and the internet free of charge and unlimitedly.
You can take it outside the hotel, so you can use Google Maps and various websites during sightseeing.
Drinks and snacks in the room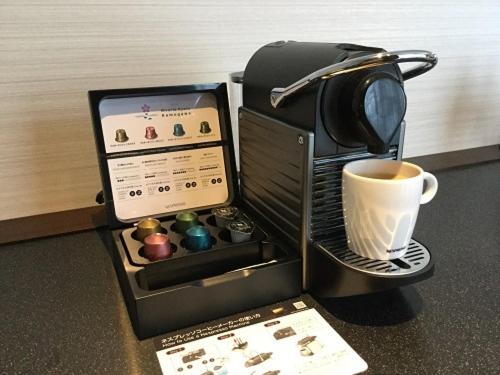 全室にネスプレッソコーヒーマシンをご用意しております。
単一原産国の豆のみを利用したマスターオリジンシリーズの中から
4つの味をご用意しております。
  ・マスターオリジン ニカラグア
      甘く調和のとれた味わい
  ・マスターオリジン コロンビア
      赤い果実や鮮やかなワインのような香り
  ・マスターオリジン インドネシア
      木のような香りと豊かな味わい
  ・マスターオリジン インド
      力強くスパイシー
お好みのお味をお楽しみください。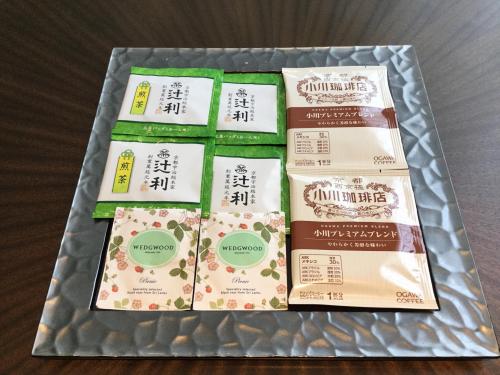 全室に紅茶、緑茶、ドリップコーヒーをご用意しております。
   ・紅茶    ウェッジウッド
   ・緑茶    辻利
   ・コーヒー  小川珈琲店プレミアムブレンド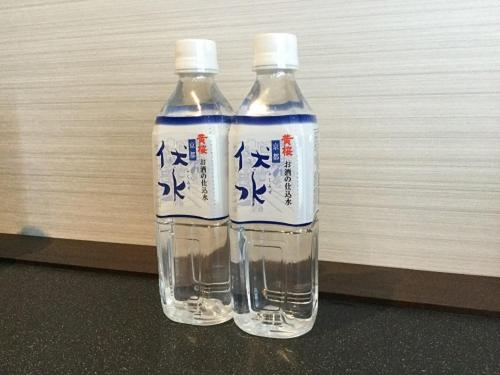 お飲物をより美味しくご賞味いただくため
全室にナチュラルミネラルウォーターをご用意しております。
  ・黄桜 お酒の仕込水 伏水
名水「伏水」は桃山丘陵地帯に流れる
良質な地下水。
日本酒の仕込み水としても
使われ、口当たりの柔ら
かさが特徴です。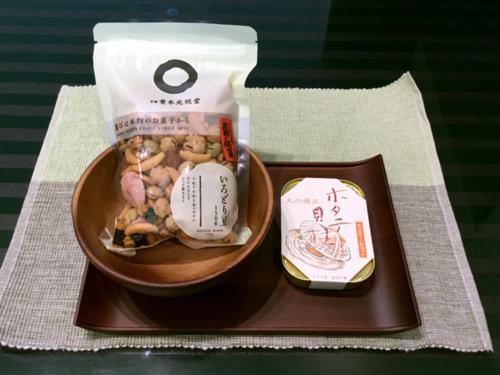 We
offer free snacks to
relax in your room
.
Takenaka Kanzume "Amanohashidate Scallop"

Aoki Koetsudo "Irodorimame"
Please enjoy the taste of Kyoto.
* There are days when different lineups will be offered, such as after the second day of consecutive nights.
Demachi Futaba"Meidai Mamemochi"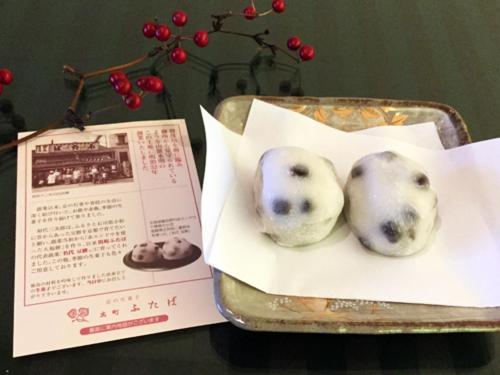 It is said that Kyoto people do not line up.
It is at the entrance of the Masugata shopping street that people in Kyoto will want to buy even if they are bothersome.
"Meidai Mamemochi" from the popular line "Demachi Futaba".
We want our customers to taste it,
The staff is lined up and we are preparing.
* The shelf life is during the day.
* There are some days that are not available, such as the year-end and New Year holidays and regular holidays. Please pardon.
Rental equipment
Please call the front desk by phone "handy" in the room
[extension 8801]
Iron
umbrella
Thermometer
trouser presser
Smartphone charging cable / various conversion plugs
Champagne glasses
Ice / ice bucket
Rooftop terrace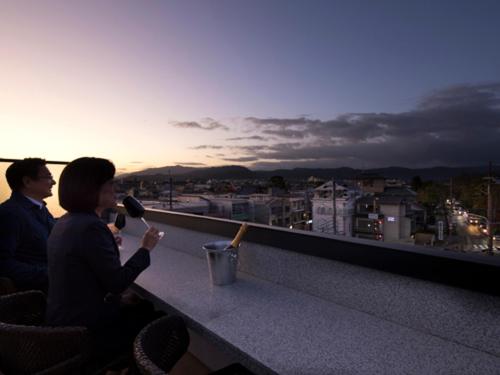 Rooftop terrace on the 5th floor overlooking Tadasu no Mori and the 36 peaks of Higashiyama.
On a nice day, you can enjoy the cafe feeling with coffee
You can enjoy the ever-changing evening scenery and the gorgeous scenery of the night.